PHOTOS: Planning to visit Uttarakhand and wondering where to go? PM Modi advised to definitely visit these 2 places
PM Modi Tweeted On His Uttarakhand Visit: While sharing pictures of his Uttarakhand visit, Prime Minister Narendra Modi described it as very special and said that anyone must visit these holy places for the natural beauty here. In a post on his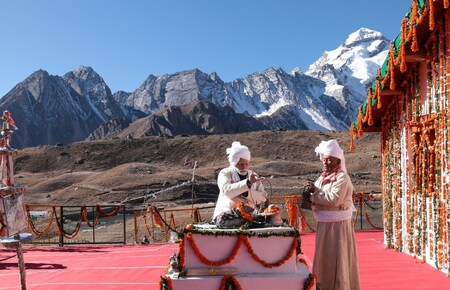 15
Prime Minister Narendra Modi on Saturday said his visit to Parvati Kund and Jageshwar temples in Uttarakhand was special and said one must visit these holy places for their natural beauty and divinity. Last Thursday, PM Modi had reached Jolingkong in Pithoragarh district of Uttarakhand, where he first worshiped at Parvati Kund.
PM Modi wrote in his tweet post, "If someone asks me that which place should you see in Uttarakhand, then I would say that you must see Parvati Kund and Jageshwar Temple in the Kumaon region of the state. Natural Beauty And the divinity will mesmerize you."
In his post along with the pictures, PM Modi wrote that there are many famous places worth visiting in Uttarakhand, these include the holy places of Kedarnath and Badrinath, which have been my most memorable experiences. But, returning to Parvati Kund and Jageshwar Temple after many years was special.
Parvati Kund is situated at an altitude of 5,338 feet, which attracts devotees every year. It is believed that Lord Shiva and Goddess Parvati meditated here. Thousands of devotees come here to seek blessings of Lord Bholenath.
Jageshwar Dham includes about 224 stone temples. It is situated at an altitude of about 6200 feet above sea level. It is said that the first tradition of Shiva worship started from here.